With extensive simulation experience across various end markets, TZERO utilizes robust principles to ensure projects meet their milestones. Several unique approaches include patent-pending screw moving boundary, predictive cavity template, mold structure optimization, and
in mold rheology
.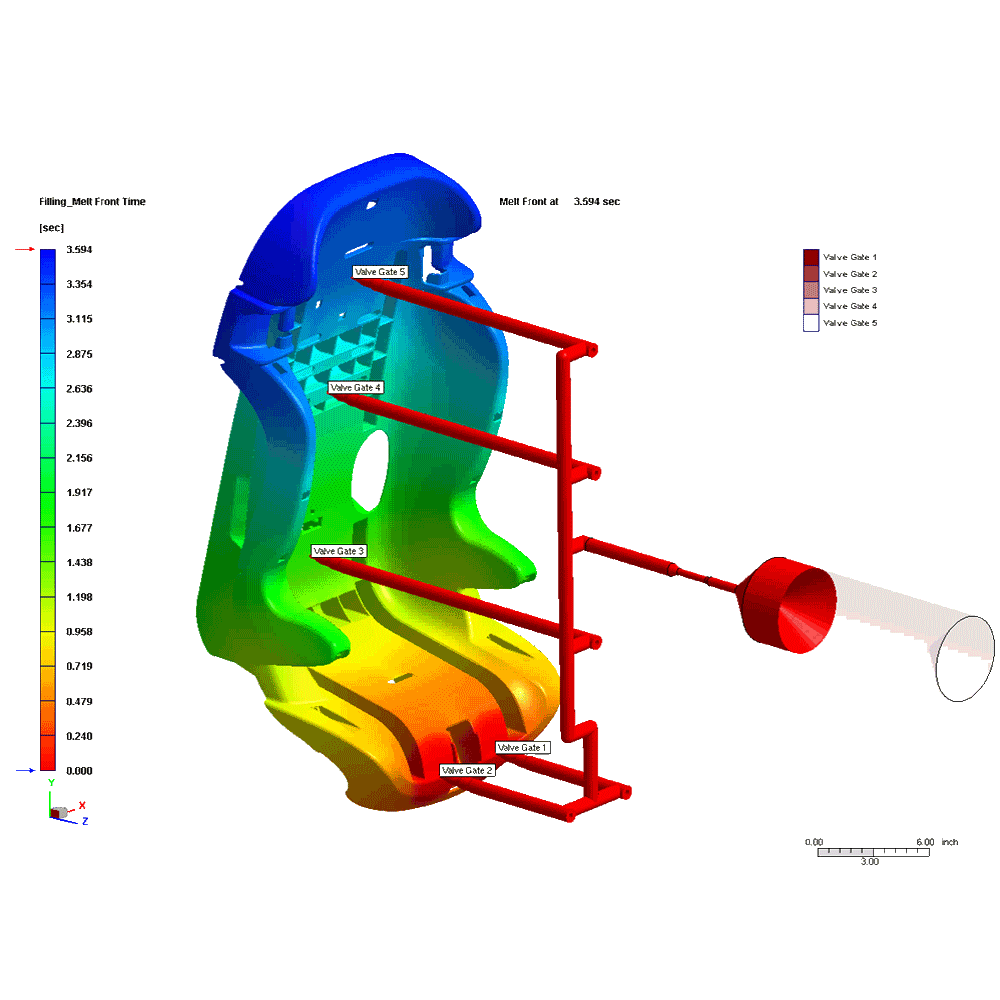 Screw Moving Boundary
Screw Moving Boundary uses the existing building blocks of simulation to model the injection unit and apply screw movement, just like a real-world injection molding process. This method is particularly effective to simulate sequential valve gates or large compressibility effects that occur in the feeding system.
Screw Moving Boundary helps to predict true injection pressure of the machine (as opposed to pressure loss), range of the barrel size, and the stroke position setting of valve gate opening and closing. It also improves the accuracy of cavity pressure prediction and clamp force requirements of the machine.
This patent-pending approach was developed and validated within RJG.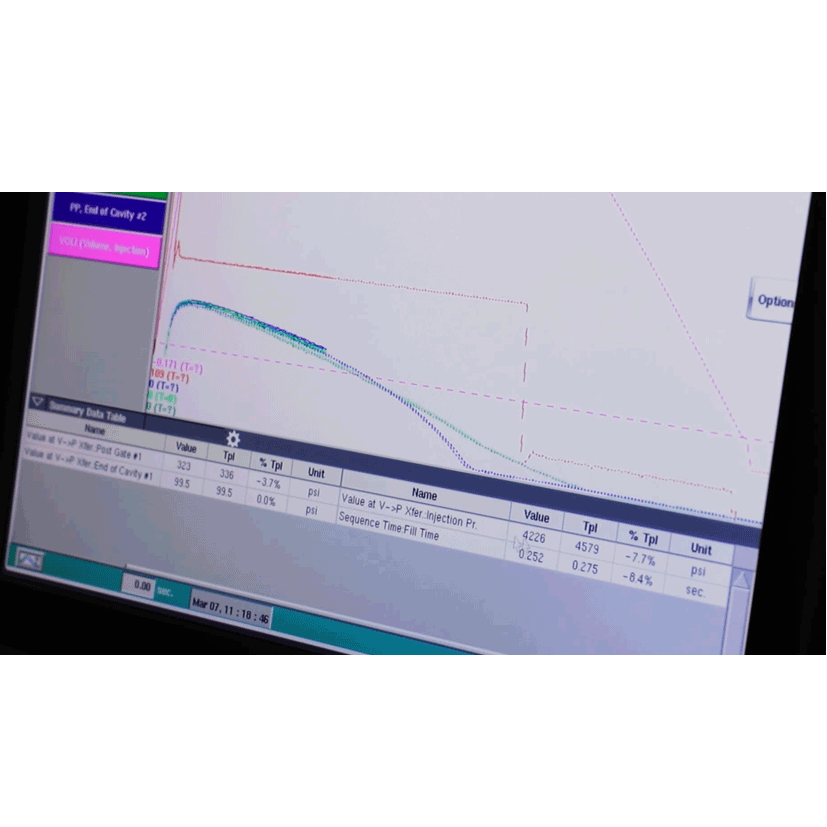 Predictive Template Transfer
We have invested many years and resources into creating a correlation between sensor measurement data and molding simulations. As a result, we developed this patent-pending method, which enables users to transfer the predicted cavity pressure and temperature to the eDART® system. This can be done at the tryout event, speeding up process development.
Once the template is matched as closely as possible, the deviation between the predicted and final templates can be quantified, and relevant influential factors can be studied. Predicted template transfer also allows users to correlate the material parameters used in simulation.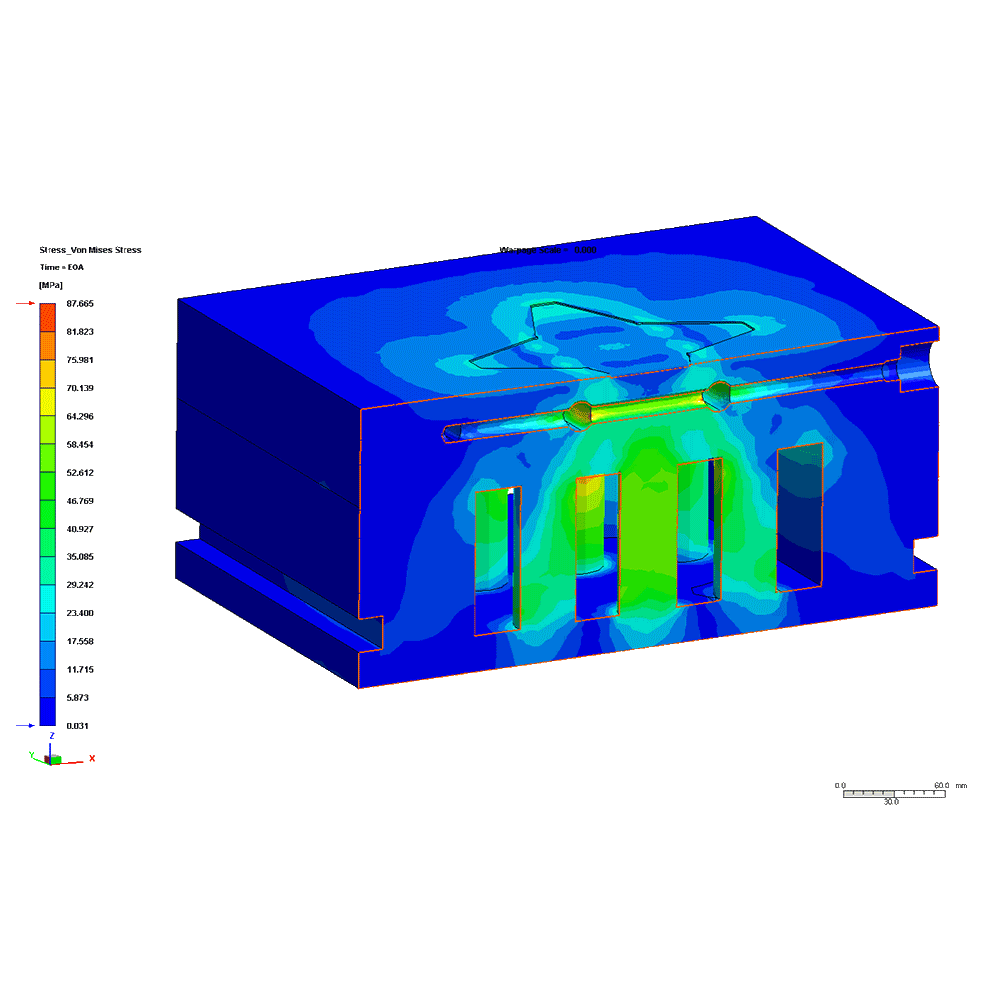 Mold Deflection
Mold Deflection Analysis helps to identify the area of the mold requiring the most support as well as the deflection magnitude of the parting surface. When mold deflection occurs, as do many undesired weight/dimensional variations or even costly mold damage. This analysis helps to determine the layout of robust support pillars or structures to optimize the design of ejector pins, cooling systems, and other mold components.
This proprietary approach was developed and validated using RJG's mold deflection sensors in combination with FEA (finite element analysis) code.