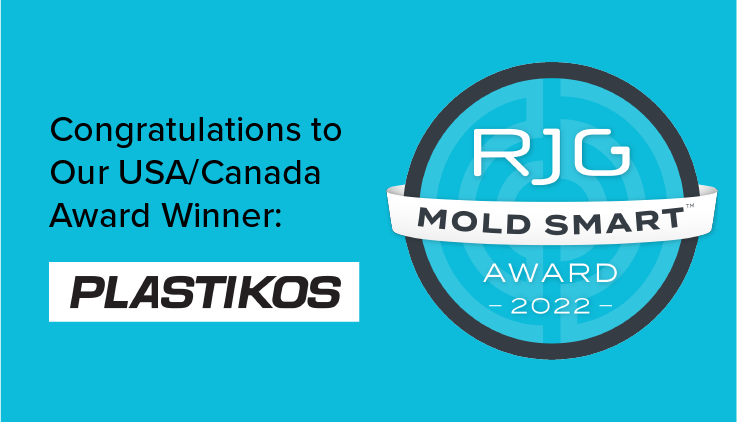 We're pleased to announce the winner of the first annual RJG Mold Smart Award in the United States/Canada, Plastikos.
The Mold Smart Award celebrates injection molding companies who have fully committed to improving the quality of their products, lives, and the world by implementing a variety of RJG solutions. We presented one award each in three of our global locations: USA/Canada, Latin America, and Asia.
Plastikos was selected in North America due to their successful implementation of RJG's technology, utilization of training, and integration of RJG into their ongoing processes and procedures. They are continually seeking to address and improve their plastic injection molded parts and place a high importance on quality and efficiency.
Plastikos manufactures critical quality-of-life or life-sustaining medical devices and electronic connector applications with no room for error. Since implementing RJG technology, their production volume has increased by 365% while parts per million rejects have decreased by 90%.
Plastikos utilizes both RJG training and technology to reduce scrap rates, downtime, and external reject parts. They can identify problems quickly by using templates made during qualification and cycle graphs to pinpoint where cycle problems occur. Automatic sorting ensures only good parts are sent to the customer.
"It is an honor and very rewarding for the entire Plastikos and Plastikos Medical team to win the inaugural Mold Smart Award from RJG," said Rob Cooney, Manufacturing Manager at Plastikos and Plastikos Medical. "Over the last 12 years, the plant-wide implementation of RJG's technology and our custom developed training program, including several RJG classes taught by our qualified trainer, have enabled an impressive growth trajectory while also increasing our efficiency and quality metrics."
"We are honored to present this award to Plastikos," said Dale Westerman, CEO of RJG. "Their dedication to RJG training and technology is an inspiration and a real-world example of why we love what we do so much. Their dedication to creating a true partnership with RJG has inspired and pushed our team to continue to grow. They have embraced our technology wholly and use it in their day-to-day operations. They are truly a leader in what they do, and we are proud to work alongside them and watch them succeed." Congratulations, Plastikos!