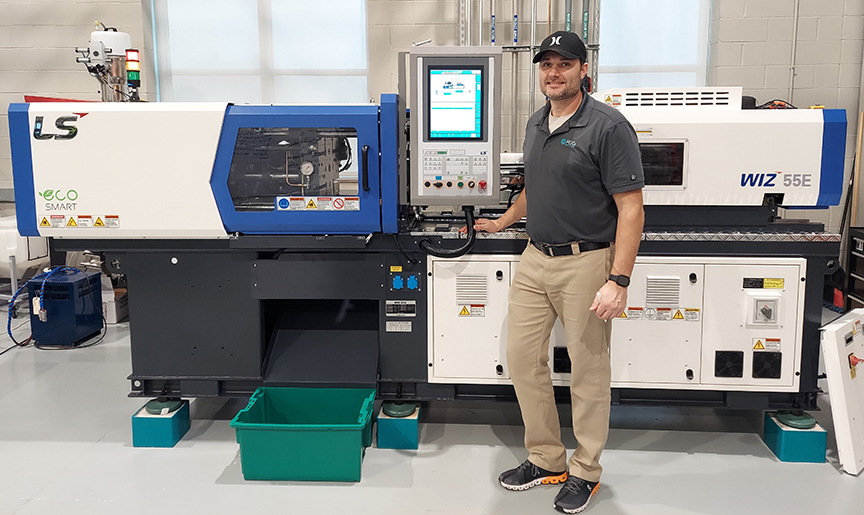 LS Mtron Injection Molding Machines USA has formed a partnership with RJG Inc. to bring cutting edge training in scientific molding to RJG's new facility located on the campus of Rowan-Cabarrus Community College (RCCC) in Kannapolis, North Carolina. RJG took delivery of the all-electric LS Mtron WIZ-55E molding machine earlier this month in preparation for its first class, which begins the week of January 9, 2023.
When asked why RJG chose to partner with LS Mtron for this new training program, Shane Vandekerkhof, Director of Client Development and Solutions at RJG, said, "We like to work with a range of top machine manufacturers to expose our participants to the latest machine technologies that are available. When the opportunity came up to be able to have an LS Mtron machine in of our training centers we jumped at the chance. We are excited to provide our participants with access to another world class machine."
The LS Mtron WIZ-55E is one of the E-Series all electric molding machines introduced by the company in 2016. Models range in capacity from 20 to 950 US tons, combining the benefits of servo electric technology with an injection speed/pressure control algorithm, conformance to safety standards, a 5-point toggle clamping system designed by FEA analysis, and a high-speed injection molding mechanism. The WIZ-55E is high-precision, clean, and energy-saving.
Peter Gardner, Business Director of LS Mtron Injection Molding Machines North America, said, "Placing our WIZ-55E machine at the RJG training facility has marketing benefits to be sure, but more than that, we firmly believe that US molders need to do all they can to develop a skilled workforce that is knowledgeable in the principles of injection molding and beyond."
Gardner adds that LS Mtron has a large customer base in the Southeastern US, particularly supporting the automotive molding operations of South Korean automakers. "We are encouraging our customers to take advantage of this new program where they can receive the best training and technologies to improve and validate their molding processes."
RJG courses offered at RCCC, include Mold and Part Design, Fundamentals of Injection Molding, Decoupled Molding Workshops and Master Molder I and II. "We really try and focus on the hands-on experience as much as possible and provide at least 50 percent of the course time to working on the machines," Vandekerkhof said. "RCCC provided us with an amazing facility in a great location that is accessible to customers from all over the world."
RJG provides the opportunity for any enrolled students at RCCC to take its classes free of charge.
About LS Mtron Injection Molding Machines
LS Mtron Injection Molding Machines was founded by South Korean tech giant LG Corporation, one of the world's largest plastic molders.
LS Mtron produces up to 2,800 machines per year, not only for use by its own network of LS related and LG founded companies, but for many other molders around the world.
In the USA, LS Mtron Injection Molding Machines is led by Peter Gardner, Business Director. The company's US headquarters are in Duluth, GA (near Atlanta), and its Tech Center is in Wood Dale, IL (near Chicago). The company also has a large machine testing and Tech Center in Brownsville, TX, and a Parts and Service Center in San Diego.